As excerpted from http://www.latimes.com/business/autos/la-fi-how-to-trade-a-car-20140713-story.html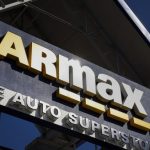 The best advice about trading in your car is to avoid it.
You'll always get more money selling it on your own, sometimes thousands more.
A quick tour of Kelley Blue Book's KBB.com used-car valuation service shows you why. Take a 2010 Honda Accord EX sedan in "very good" condition with 50,000 miles on the odometer and see what it is worth.
Kelley says that the trade-in value is $13,054 and that it would sell to a private party for $14,549. That's a $1,500 difference, but the gap could be bigger because many dealers don't offer the full Kelley Blue Book trade-in value. They try to buy at low wholesale and sell at the top retail price.
Trading in a car also complicates the purchase of a new car, giving the dealer an opening to inject more profit into the deal by low-balling your car. It's also much easier for a buyer to negotiate one transaction [...]